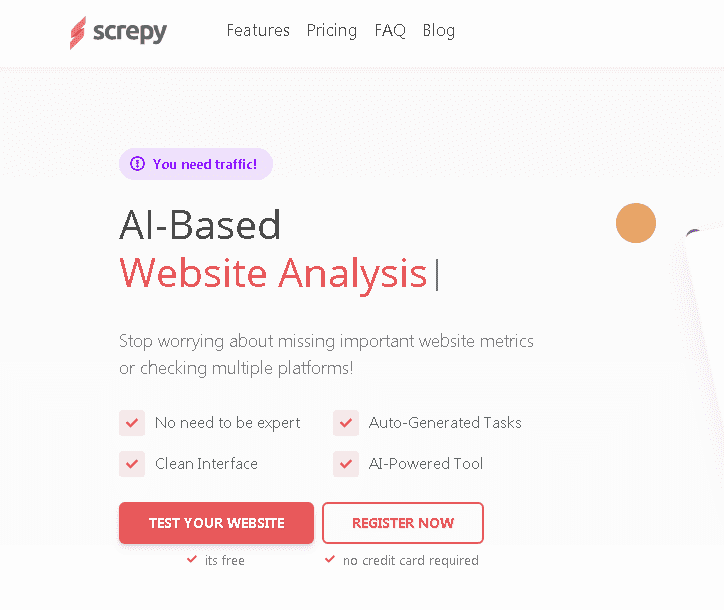 What is Screpy?
Screpy is one of the leading analytical tools to have if you want to grow your website. It's completely AI-based and as such takes away the hassle of having to hire an IT professional to help manage your website for you. Screpy comes with a lot of handy features which makes life a lot easier for the user. Some of the top features which I absolutely love about this website are SEO Monitoring, Keyword Tracker, Page Speed Monitoring, Uptime Monitoring and last but not least, Syntax Checker.
Features of Screpy
SEO Monitoring helped my website be a ton by keeping me informed on a regular basis about the site's health and page speed with timely notifications. It also provides you with valuable suggestions regarding the website via auto-generated tasks.
Keyword Tracker dos away with the headache of scouring the internet for hours to collect keyword rankings, as it helps you out by providing with google ranking of keywords at your fingertips, all in one place. We as humans are prone to make errors and some errors are more costly than others, like errors in the coding of the website but that's where Screpy comes in!
Screpy has a unique Syntax Checker which is fast and easy to use. It'll help your website be free of those dreaded syntax errors and keep it smoothly running.
Page Speed Monitoring comes along with metrics integrated with Lighthouse to find the best possible solution under all circumstances and scenarios.
We can afford downtime but your website cannot. Uptime Monitoring tool keeps you in the loop with real-time alerts if your website experiences downtime so that you get the chance to take precautionary measures and not let the problem interfere with your work!
Pricing
Screpy has different subscription plans which start at meagre prices.
Different plans provide different advantages and the best thing is that you can upgrade, downgrade or cancel your plan at any time!
Final thoughts
All in all, Screpy is a one-stop solution for managing your websites and the best part about it is that you don't have to be tech-savvy or an expert at SEO to use it.
They have carefully created this website by keeping the sophistication away from us and delivering us with a fast and user-friendly interface to help us get an edge over our competitors.