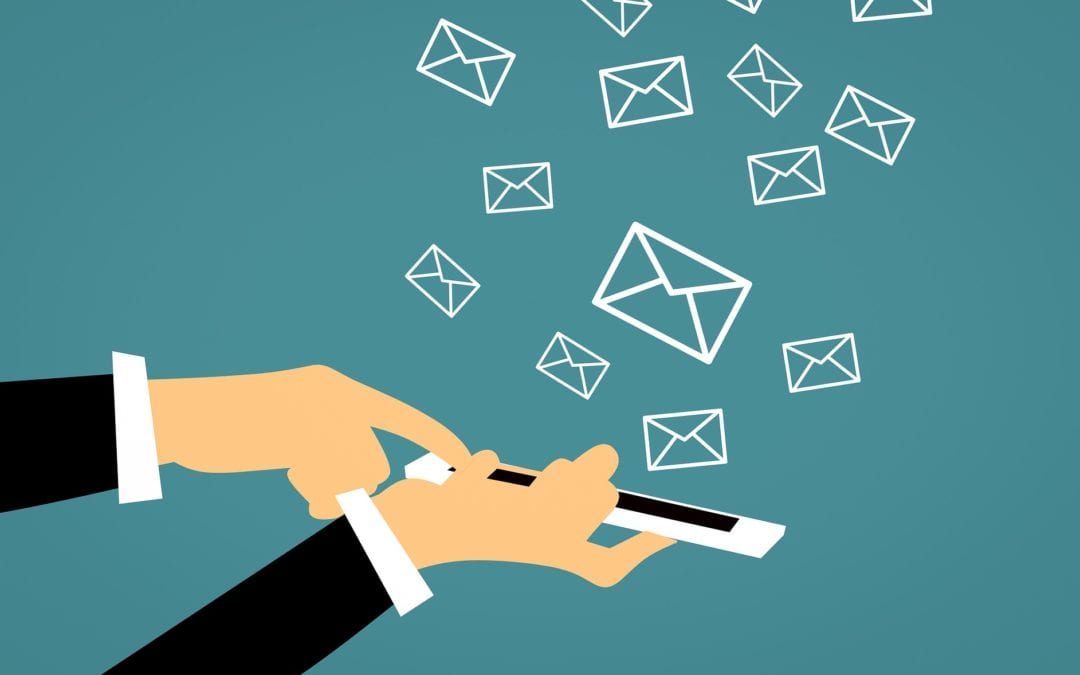 Nowadays, Multiple digital channels are available to promote your business but still, most of the businesses prefer email than other media. E-mail is the oldest medium to market your products or services. But still an effective one. Thus in this article, I will share some business e-mail tips that you should learn to run a successful e-mail campaign.
If you have a startup and you want to invest in e-mail marketing or if you are not getting the desired result from your existing email campaign, then you are at the right place. Stop sending tons of emails to your recipient, as people may become irritated with that. Thus email loses its effectiveness. Thus let focus on business e-mail etiquettes, styles and formatting to get desired results. Hope this article will help you to run your first successful e-mail campaign.
What Is E-mail Marketing?
E-mail marketing is also a digital channel to promote or market your business. In the case of e-mail marketing, brands or companies share their products, services or offers with the audience directly. Thus often it termed as a direct marketing channel. Once you have your e-mail list then you can start your email campaign using tools like MailChimp, Drip etc. According to a survey 94%internet user have an email account. Hence, e-mail is the fastest, cheapest and effective medium to sell your products or services and build a personalized relationship with your potential customer as well.
Benefits Of E-mail Marketing:
It might confuse you that in the era of Facebook ads and Google ads why should you invest in outdated email marketing. Hence, there are the following benefits of email marketing,
Cost-effective: Cost is a common issue in any business. So if you want to run ads on Facebook or Google, then you need to invest a lot of money earlier as these are becoming expensive day by day. Whereas you can run An e-mail campaign with minimal investment by subscribing any Email Service provider or e-mail marketing tool. Thus it is cheaper than other advertising platforms.
Offers Direct Marketing: In the case of TV broadcasting or press release advertisement, you miss the larger part of your target audiences. As these are not targeted specifically. Whereas in email marketing you are sending the emails to your potential customers or whoever have shown interest in your products or services. Thus here the target audience is specific and chances of conversion are also high.
Offers lead Nurturing: Nowadays, businesses are generating leads from social media and websites. But generating leads is the first step. Then you need to nurture your hot and cold leads accordingly to ensure conversion. Thus where email is the best tool to perform that lead nurturing process, It will give you a better overview of your prospects. Hence, email basically encompasses all the other advertising platforms.
Easy to Analyze: Most of the e-mail marketing tools are basically comes with Analytics features. Analytics can track opens, click through rate(CTR) and Conversions. Thus you will get an overview of a Campaign. It will help you to fix the loopholes in the existing campaign and you will start to get better results.
Embed any types of ads (Image,video.gifs etc.): Email offers you the flexibility to embed any files in your Emailer or as content. You can add Images, videos, gifs,pre-built templates etc. depending on your purpose. Whereas there is some restriction on other advertising platforms.
Easy to share: Your subscribers may want to share your offers with their friends or contacts. They can simply share the email within a click. This easy to share option may help you to broaden your audience. It can simply introduce your business in a completely new market.
Bigger ROI: Every business focus on their respective ROI factors. Every entrepreneur expects a certain return on their investment. Email can help you to meet your ROI. As everyone emphasizes results, thus email increased the percentage of revenue.
Consume less amount of time: Email marketing automation automates your workflow. You need not send the emails manually to your every recipient. You just need to schedule a campaign once. It will automatically deliver to your recipients. You may use the same email copy in the future campaign as well. Using automation you can also trigger a certain message when a user performs a particular action. Thus it will basically automate your sales process.
Increase Website or Blog traffic: If you have a website or a blog then you can use email marketing to boost your web traffic. To implement that you should attach a website or blog page link with your email copy. But make sure that you are providing quality or valuable content to your subscribers.
Types of E-mails:
Newsletter: Newsletters are often sent to the subscribers on a regular basis. Newsletters do not raise the sales pitch directly rather it is used to build a relationship with your customer. You can send tons of value to your subscribers using E-mail. This is one of the effective hacks to build trust among your audience. If you have any blog or youtube channel, then you can share your content using newsletters. Thus your audience will never miss out your latest content.
Triggered Emails: These are the emails which used to send after performing certain actions are like purchasing a product, Sign up to a new account or complete any transaction etc. These are implemented by marketing automation.
Sales emails: These types of emails are used to share information about products and offers among the audiences. These basically raise the sales pitch where people asked to purchase a product using coupons and offers. These types of emails are perfect for upselling as well.
These are the generic types of email campaign people used to run. You can customize your campaign according to your objectives or requirements.
What Is Email Marketing Software?
As I have mentioned earlier that you need to opt for an automated email marketing software to run your email campaign. This is the only thing on which you need to invest. It helps you to save your contacts and run the campaign among them. Once you schedule the campaign then it will run automatically. This software helps in designing of the emailer. Some these have come with pre-built templates. Its analytics helps to measure campaign performance like the number of opens, clicks and unsubscribe rates, bounce etc. Most importantly these are flexible tools. Thus you can integrate these with any CRM or Funnel building tools like Clickfunnels or any third party tools like Zapier. It's work fine with them. Some of the best email marketing tools are:
21 Business email tips or Email Etiquettes:
Find your tone: You need to find the right tone for your email copies depending on your audience. It could be in between formal to friendly. But you should be professional. Relevantly use the "please and "thank you". Always sign off using "Thank you".
Focus on the Subject line: Never miss out to craft an effective subject line. A powerful subject line will surely increase your e-mail open rate as a good headline always drive attention. This is the right place to hook your audience. Your subject line should be brief and describe the topic of the e-mail. But make sure that your headline should not mislead the user. It should be perfectly aligned and relevant to your e-mail content.
Pay attention to Pre-header text: Sometimes marketer won't pay attention towards preheader space as they use this as a compliment of a subject line. But it is equally as important as the subject line. It also increases the open rate. Thus use the preheader text in a most effective way.
Properly format the body of the content: If you are writing any lengthy content then perfectly format your content. Always split your content into smaller paragraphs and use proper spacing. Don't put up a wall of a text. Use multiple headlines, bullet points, bold fonts, Maintain consistency in font size and spacing. Add relevant Call to actions (CTA) if needed. Often use Infographics, cool images, videos and gifs as well. As nobody wants to read a wall of a text. There is a generic structure you can follow as well.
Start with a greeting. If you are writing to your recipient for the first time then address them with their first name and write a little welcome message.
If you are writing to your recipient for the first time then don't forget to mention how you were connected. It will remind the user about the context of the following information.
Add relevant Call to action. As you definitely want your audience should take certain action after reading your email. It could be anything like subscribing to your webinar or purchasing any products or services.
Add an end message. For example, "Thanks for connecting"," With regards", " We will connect you soon"
Don't forget to add your signature at the end of an email.
You may share some links or files as an attachment.
Here is an example,
Subject line: Hurry up! Our Early Bird offer is Expiring Soon.

Hi, " First Name".
Good afternoon, Hope you are doing well. It was great to have you in my email list.
I am writing this email to inform you that our "Early Birds Offer" is going to end by tonight.
Hurry up !!
Book your ticket.
// include a button with relevant link//
……………….
Thank you,
// Add your email signature with contact information//



Perform proofreading: Never publish your email once you just finished your copywriting. Always proofread or review the content carefully. Check whether it is correctly formatted or not. Check the grammars as well. You may use some grammar checker or spell checker tools during copywriting. Always review your article from a reader perspective. If possible hire some professional proofreaders to review your content. As content is key to drive the conversion. Hence, you need to invest time and money in that.
Keep it clear and simple: Don't stretch your email copies unnecessarily. You just need to fulfil one purpose in each email. Thus keep your email copy concise and clear. Don't hide your request. Your audience should understand your request for minimal reading time. Thus it's better to use some numbered lists or infographics. If possible form a team of graphic designers. They can help you in designing some visually attractive emailers.
Don't spam: Always avoid spammy behaviours. Try to send emails to those who have given you permission. Don't send emails to strangers who are not expecting to hear from you. If you do so, it will badly affect your brand's reputation. Never use the emails of your Linkedin connections and avoid email scrapping techniques. It always better to collect leads information from your website pop-ups and Lead generation campaigns.
Use Blind Carbon Copy (BCC) to send private emails:
What is BCC?
Email offers you add BCC and CC.BCC is typically knowns as "Blind Carbon Copy". Using BCC you can send information someone privately.
How to Use BCC?
If you are sending an e-mail to mass people where the recipients don't know each other, there obviously you don't want to disclose other's email information. This is where comes the application of BCC. In such cases, you should add BCC to maintain the privacy of the recipient's contact information.
Provide the recipient with an unsubscribed option: Always add an Unsubscribe option in each email. Thus any recipients can unsubscribe you if they don't want to hear you further. It will help you to keep your contact list fresh. Your Email marketing tool will help you to implement that.
Avoid E-mail blasts: Some marketers prefer to send hundreds of emails to attract their potential customer. But unfortunately, it does not work at all. Rather sending a blast of emails will reduce your authenticity. Thus it's better to analyze your audience's problems and needs. Then send personalized email, Yes, it is time-consuming but it will increase your conversion rate. At the same time, you will build a relationship with your audiences.
Add email signatures: Never forget to add an email signature at the end of each email. Even you can run upsells using email signatures. Write a description of 5-6 words and add a link of your new products and offers with the description. Put that under your contact information. You will start to see more replies from your recipients.
Give a prompt reply: Always to reply to your emails within 24 hours. Not more than that. Thus your clients will feel, that they are important to you.
Use pre-built templates and Customize: If you running out of time or don't have a team to prepare email templates on a daily basis, then you should use pre-built templates. Those customizable templates actually work better than the individually crafted ones. So don't underestimate the power of customizable email templates.
Track campaign and Reply faster with CRM: You can use CRM software to track your email campaign. Thus when any of your recipients click on any links or open the email, you will get quick notifications, Thus you can respond faster. Those CRM also offer email template.email scheduling and bulk email service as well.
Make engagement a priority: Ensure engagement in your each email copy. This should be your Top most priority. Run surveys or create polls to bring engagement. If your subscribers will not engage with content then automatically chances of conversion will become lower as well.
Split test your email copy: Always run split tests on your email copies using your e-mail marketing tools. Design with multiple variations, Measure the metrics from analytics and choose the most effective version. It will help you to optimize your campaign and ensure the conversions.
Don't show desperation: Don't show desperation to send follow-up emails. Always ensure a certain time gap before sending follow up emails. You can automate your entire follow up a workflow using marketing automation tools. Connect with our experts to know more about marketing automation.
Design a Professional Email Signature: A professional email signature should include your name, position, the logo of your brand, website links, social icons or any other contact information. Apart from those you can add any promotional links or banner with your email signature. But make sure it should be simple and not too lengthy. You just need to put that information smartly which defines you and your brand's identity with contact information due to communication purpose.
Never criticize anyone: Avoid criticism in your email copies. Never insult your competitors or any brand in your email copies.
Reward your subscribers: Often reward your subscribers. It will help to keep engagement. You can send some free ebooks, pdf of any case study or any valuable content. Giving rewards or sending free values will surely increase your conversion rate.
Try to use plain text: Plain texts are always performed better than HTML template. Plain text template always increases the number of link clicks. As we all want to communicate with the customer and most importantly want to get a response from them, thus you should prefer plain text over HTML template. No matter how gorgeous your HTML template is.
Why plain text is better?
It is easy to read.
As most of the users are nowadays open their emails in their smartphone, thus the plain text is widely preferred on mobile. As it is easier to read in mobile
Plain Text has higher delivery rates
It will increase the number of clicks or email open rate
It is also trackable from Mailchimp email Campaign.
How To Choose The Right Email Marketing Software?
Email marketing is not just about sending the tons of email to your client's inbox. Rather it's about sending targeted content to recipients which will generate conversion. As we are living in an era of automation, thus we need a complete automated system to build a peer to peer connection or a personalized relationship. Hence, before choosing a software keep following things in your mind,
Integration: As you need to reply faster, thus you should integrate your email marketing tool with your CRM. Always check, if those tools are flexible enough to integrate with your CRM or not. Also, check it supports any third party app integration or not.
Responsive Template: Most of the internet user nowadays open their email from their smartphones. Thus you need to use a responsive and highly optimized template. So make sure that your software should come with a responsive template.
Response handling: You may receive more than thousand of response in a day. Thus segregate those emails manually is impossible. A good email marketing software will keep your database fresh and organized. Thus it will be easier for you to send the appropriate response to your recipients. Check those workflow features before choosing your software.
Social media sharing: Check your software if they are providing you with the social media sharing option or not. As you should provide a social sharing option to your subscribers that they Can share your content on social media.
Preview of Inbox: Good email platform will provide you a preview of an inbox. You will be able to see the preview of your email on different devices like desktop, mobile and tablet before sending the emails to your subscribers. Thus you will get the opportunity to make necessary changes before delivering emails to the recipients.
Business requirements: Consider the requirements of your business. Decide the number of emails you need to send in a month or how much subscribers you have. Consider the number of email addresses you will need. Thus depending on those factors choose the suitable software for your business.
Reliability and Support: As your core marketing part is depending on your email software, thus always make sure you have good support for your e-mail software. If you are associated with a third party then always get a service level agreement. This will provide you a guaranteed response if you will face any problems in future.
Security: As hosted email services are best for the small businesses, thus if you will buy a hosted email service make sure the service providers are trustworthy and give full protection of your data. It should compile with GDPR rules and regularly take the backups.
Analytics features: Check the analytics features of the software. This will track your entire email campaign. Explore advanced features of analytics. More advanced features you will get. More deeply you can analyze your campaign. Thus you can fix your loopholes quickly and generate higher conversions.
Flexible: Choose software which is flexible. As your business will grow, then your number of subscribers will also increase. In a certain scenario, your software should work fine with the growth of your business.
Final Recommendation:
As there are dozens of email service providers are available in the market. Thus always choose a software depending on your size of business and most importantly within your budget. Try to choose the most powerful tool within your budget.
If you are short in budget or have a small or medium-size business, then MailChimp is the right tool for you.  You can also share your requirements and budget with us. We have the highly skilled email marketers in your team to guide you. There are the following tools I always recommend,
Why did I recommend MailChimp?

MailChimp is user-friendly. It offers easy and quick set-up.
MailChimp is cost effective. It's free up to 2000 subscribers including automation, A/B testing .audience dashboard, Contact profiles, Tags & segments.
MailChimp is flexible. It works fine with WordPress website, Squarespace website Shopify store.
How to use MailChimp?
Create a free account on MailChimp: Go to Mailchimp.com and create a free account first. Then choose a plan depending on your number of subscribers and requirements. Let MailChimp know if you are selling anything online. Thus you can use the e-commerce feature of MailChimp software. After that, you will be taken to your MailChimp account. There you will see that your domain is verified but not authenticated. You can skip that authentication process. Otherwise, you should register your domain first and then perform the authentication. Once you are done with the set up then you are ready to create your first MailChimp list.
Create a list: A Mailchimp List is a place where Mailchimp organizes your subscribers. You can create as many lists as you need. But initially, Mailchimp will create a default list. By clicking on the "create list", you can create your own lists.
Set up MailChimp sign up emails: In MailChimp, you can design a simple sign up forms which you can use as emailers. You can use pre-built templates to design your sign up forms or customize the template according to your need. You may add your business logo, brand colours on it as well
Connect your MailChimp with WordPress site: As I have mentioned earlier that MailChimp is flexible enough to work with WordPress Website. At first, you need to connect your MailChimp account with WordPress. Thus you should install a plugin "MailChimp for WP" in your WordPress site. Then put your MailChimp's API key there to verify your MailChimp account. Once your MailChimp account is connected with the WordPress, Then you can use MailChimp Forms, landing pages or pop-ups in your WordPress website. As MailChimp provides a shortcode of landing pages, thus you can embed those shortcodes anywhere in your website.If your website theme supports the widget section, thus you can add those Mailchimp sign up forms as a widget to your sidebar or footer as well.
Send your first email to subscribers: Once you are done with the above steps, then you are ready to launch your first campaign. Now just get back to your MailChimp account and click on "Create a Campaign". Then you may see some options are like Create an Ad, create an Email or create a landing page etc. From there choose "Create an Email" and select regular if you are not implementing any automation. Before moving further give a relevant name to your campaign. As it will help you in future to identify your Campaign. Now it's time for Add recipients from your contact list. You can also send your campaign to a segment or group. After adding your recipients, write a powerful subject line of your Campaign and then design body of your E-mail.
Once you are done with your design, then check the Inbox preview on desktop, mobile and other devices. Check your design is working fine with every device. If not then make necessary changes.
Now you are ready to launch your first campaign. Click on "schedule", if you want to use it in future. Otherwise, click "send" and you have sent your first email to the subscribers.
This is the basic application of Mailchimp. You can use advanced automation to grow your business. Automation can help you to retain your customers and also help you to get referrals as well.
Why did I recommend Drip?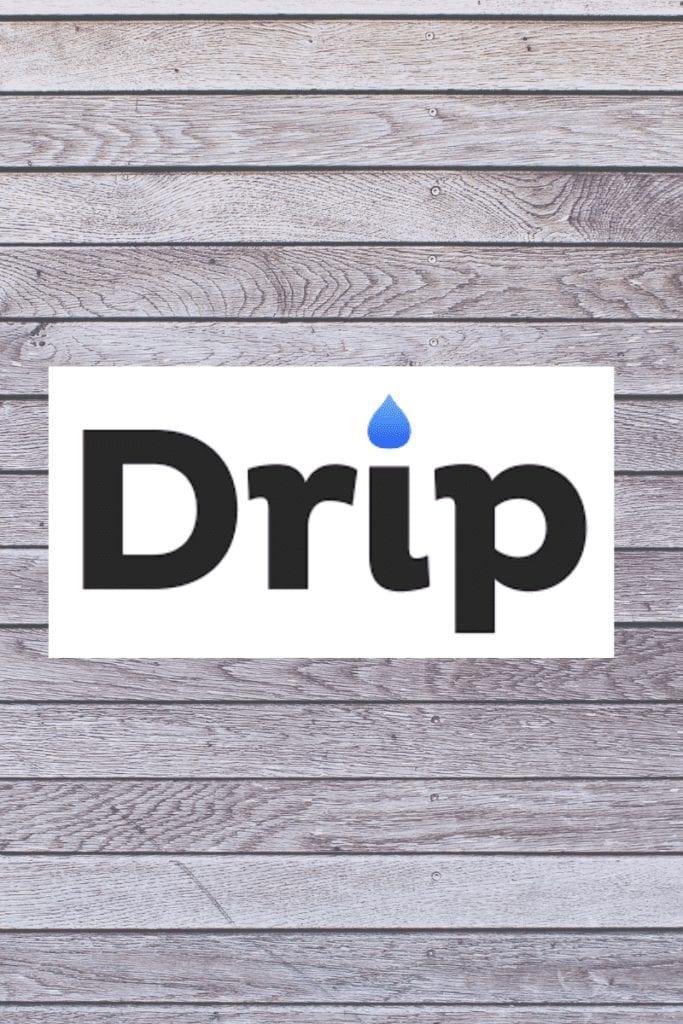 If you have a little higher budget on email marketing, then I always recommend drip. As it comes with advanced automation features.
How to use Drip?
Drip can cover several different marketing strategies. Thus it brings more engagements to your products and ensures higher conversions. These are following cases when you can use drip campaigns,
Welcome to subscribers
Customer Retention
Recommendation
Onboarding
Nurturing Leads
Engagement
Online or Offline Courses
Bring engagement
Upsell offers
Unsubscribes.
Abandoned cart Conversion
How To Run Email-campaign- 8 Step Process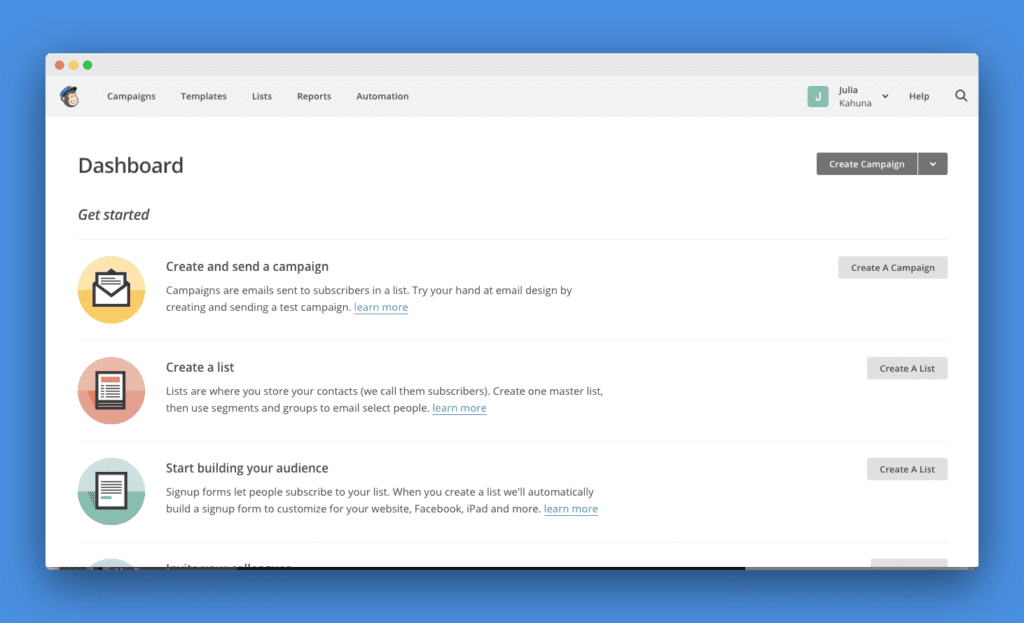 Prepare an email list: First and foremost needs of an email campaign is an email list of quality leads who have interest in your products or services. Without a good email list, an email campaign is useless. You may generate quality leads from your website using popups. Otherwise, you may run a Facebook Lead generation campaign. There are multiple effective ways of generating leads. You can choose anyone relevant to your business.
Define your goals: Once your email list is ready then you need to define your goal of the campaign. There are typical goals like,
Attract or welcome new subscribers.
Bring traffic to Website or Blogs
Increase engagement
Nurture existing subscribers
Retarget users.
Selects the types of email: Once you have prepared your email list and defined your goal then you need to choose the type of emails which you want to send the recipients. As I have mentioned earlier you can typically choose from any of these three types of emails,
E-mail Newsletters
Triggered Emails
Sales Emails
Analyze your audience demographics: Before launching your campaign you should have performed an analysis on your target audience. It should be some guesswork once you are starting. After launching your first email campaign you will get a better overview of your audience Initially, you can analyze google analytics and Facebook Ads reports or insights to know about your audience demographics, behaviour and other parameters.
Use tools: There are so many tools available to help you run an email campaign. Most importantly you don't need any technical knowledge to use those tools. As most of them are drag and drop builder or comes with pre-built templates. Thus you can use those templates to design your campaign and automate the workflows. Integrate with other software if needed, Track the campaigns from analytics and optimize it for better results.
Write the subject line: Always write a catchy headline. As it brings the attention of the user. It will increase your Email open rate.
Design the Body: Then write the body with proper formatting. It should be clear and concise with a relevant call to actions (CTA). A body should contain a
Welcome message
A true or inspiring story
Any valuable content which adds value to readers.
Create a poll or run surveys by asking exciting questions . it will increase the engagement.
Add videos or Gifs
Test & Track: Once you have launched your campaign then monitor it from analytics and run the split test of your email copies, designs or subject lines. Identify which version is working best for you from analytics.
Conclusion:
It's been a long time that Businesses are investing in Email marketing. But a little amount of people has been able to generate revenue from that. The common reason behind this is, not knowing the right audience. Thus before starting an email campaign, always identify your potential customer and understand their problem. Then provide a solution in a personalized manner.
Are your subscribers really want to hear from you? If the answer is yes, then you will surely maximize your conversion from this channel. If you want to know more about email marketing or want to get some latest marketing tips, then connect with our experts. We also have a team of experienced  Email copywriters. They can help you in creating high converting email copy.